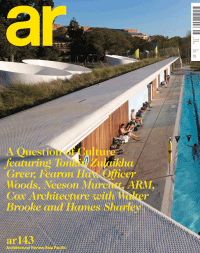 A Question of Culture: Guest editorial of Issue 143 of AR Magazine by Christine Phillips, Stuart Harrison & Simon Knott
"Culture is a big idea and there is no doubt the practice of architecture is a cultural act – but does it direct culture? Can or should it? In this edition of AR, we turn the focus to this broad theme with a series of diverse projects.
Sometimes our buildings are for cultural institutions, such as galleries and opera houses – clearly cultural in program – but culture can mean a bigger societal idea than working in 'arts and culture'. Definitions of culture here can help, but we have opted to respond to the idea of culture and architecture with a discussion.
This seems fitting as the three of us hosted a radio show for 10 years (The Architects on Melbourne radio station, 3RRR) dedicated to talking about architecture in a broad and inclusive way – we have tried to capture something in the conversation between us and with our guests. Over the years we spoke to a broad mix of people – a plural mapping of architects and designers who were interested in talking, engaging in a conversation about their work. In this issue of AR we reignite that conversation in print, discussing projects from six leading practices to consider architecture's relationship to culture. Our essay is an edited transcript of a discussion between us and, in the architects' statements, we ask the select architects to describe their projects and to tell us how they view the project's relationship to culture.
We adopt six ideas, six takes of how we might describe a culture – these range from the evident to the colloquial and touch on notions of Australianism. These ideas are the platforms on which we as a society discuss culture – sport and leisure, socialising and the city, liveability and memory. We match a project to each idea, but suspect that these ideas, and the projects, overlap to form a more complex picture of culture.
The projects are from across Australia and New Zealand, from Fremantle, where practice Officer Woods draws on traditional construction and ideas of amenity in a finely built residential project; to Auckland, where Fearon Hay, a few years ago, created a seemingly simple arcade that embodies complex ideas of urbanity, authenticity and material. We look into Melbourne's reinvented Shrine of Remembrance by ARM and consider Neeson Murcutt's wonderful pool in Sydney, as well as Tonkin Zulaikha Greer's adaptive reuse masterpiece, the Eternity Playhouse. We start our discussion in Adelaide, where the rich history of the Adelaide Oval has been given a new civic scale and prominence."
Christine Phillips, Simon Knott (http://b-k-k.com.au) Stuart Harrison (www.stuartharrison.com.au)