Project Preview: Walk a mile without seeing: Sensory City gives Melburnians a new sense of space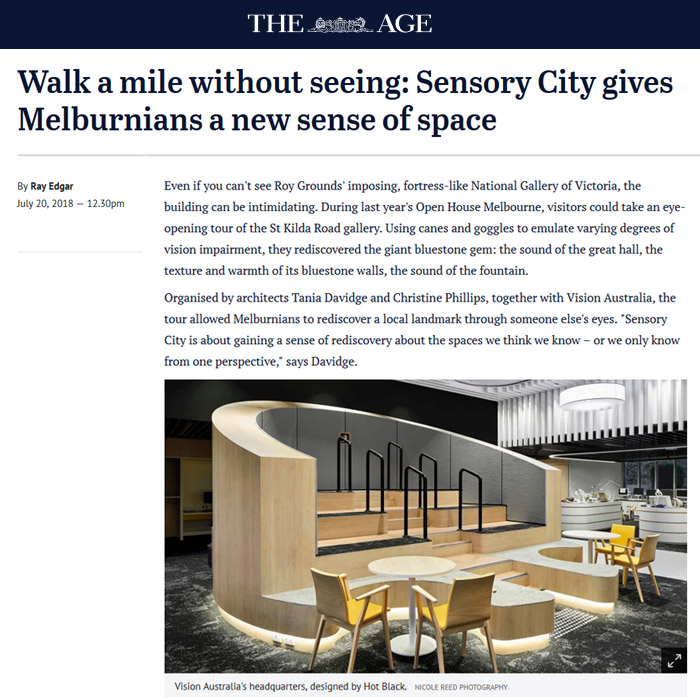 Ray Edgar's thoughtful preview on our upcoming Sensory City tour of RMIT's New Academic Street for Open House Melbourne.
Ray writes:
Even if you can't see Roy Grounds' imposing, fortress-like National Gallery of Victoria, the building can be intimidating. During last year's Open House Melbourne, visitors could take an eye-opening tour of the St Kilda Road gallery. Using canes and goggles to emulate varying degrees of vision impairment, they rediscovered the giant bluestone gem: the sound of the great hall, the texture and warmth of its bluestone walls, the sound of the fountain.
Organised by architects Tania Davidge and Christine Phillips, together with Vision Australia, the tour allowed Melburnians to rediscover a local landmark through someone else's eyes. "Sensory City is about gaining a sense of rediscovery about the spaces we think we know – or we only know from one perspective," says Davidge.
The tour, which returns to Open House this year, has a two-fold agenda. It's the chance to walk a mile in someone else's shoes, but also think about how the city can be improved and redesigned. With an ageing population, reconsidering the way we navigate the city is more than just an empathetic exercise. Vision Australia anticipates that by 2030, half a million Australians will be vision-impaired (this excludes wearers of prescription glasses).
Read Ray's full article here – https://www.smh.com.au/entertainment/art-and-design/walk-a-mile-without-seeing-sensory-city-gives-melburnians-a-new-sense-of-space-20180713-h12nsv.html